Tehama has made it easier for our customers to review associations between rooms, desktops, and their staff delivering work.

Watch the demo video here, or read more about the details below.

Rooms Page
On the Rooms page, you'll notice that we've added the number of members and desktops within each room in your organization.
New data on the Rooms page
With this information, you can see if you might have any concerns in terms of room capacity. If you are recording sessions, then you'll know that your room can support up to 75 concurrent sessions so seeing the number of desktops from this page is very helpful. It may be that type of information that helps you decide whether you add more people to that room or if it's time to create a new room.
It might also give some insights into whether your staff are able to deliver work. If you find the member to desktop ratio is far off, that might be an indication that you've added members to the room but they haven't received desktops yet.
Rooms/Members Page
This leads us to our next enhancement within the room itself. If we click into the room, you'll notice that we've added desktop assignments within this context as well. Now you can scroll through your team and identify who's been given a desktop and who is still waiting to receive theirs.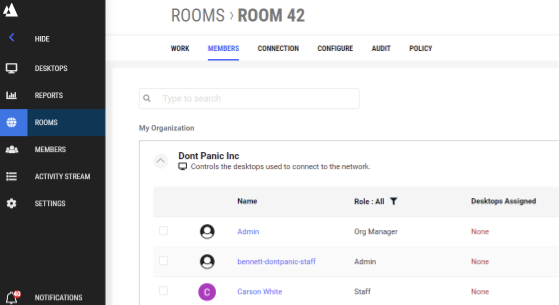 Assigned desktops appear within the Room's Members area
If we wanted to provide desktops for other members in the room, we could select them and ASSIGN a desktop from here.
To learn more about specific individuals, we have added more information on the Organization's members page.

Room and desktop assignments on the Members page
Now you'll notice we've added rooms and desktop assignments here too, closing the circle on these important relationships within Tehama. From here, you can see if a member has been assigned to a room or in some cases, multiple rooms. Same for desktops. When we're adding multiple people at a time, it's easy to lose track as to whether everyone got assigned what they needed to deliver work. Now, with this data surfaced at the Members page, we can quickly review that information.
For more information, please contact our support team at support@tehama.io.