As announced in July 2021: Tehama's Custom Images feature allows administrators to configure a single desktop with all the required applications and settings, promote this desktop to an image directly through the user interface, and quickly create new desktops as a clone of the original. This ensures a consistent out-of-the-box experience for every desktop user.
Now, Tehama is introducing new features that provide administrators and managers improved capabilities to manage their custom images. This includes increased awareness of the status of images they have created, visibility to where they are being leveraged, and tools to better communicate the intended use of an image to other members of their organization.


First, we have included an Image column on the Desktops page, visible to Admin and Manager roles. For entries where a Tehama Desktop Custom Image was used to create the desktop, the name of the custom image will appear in this column. If no custom image was used, this column will display "Base Image".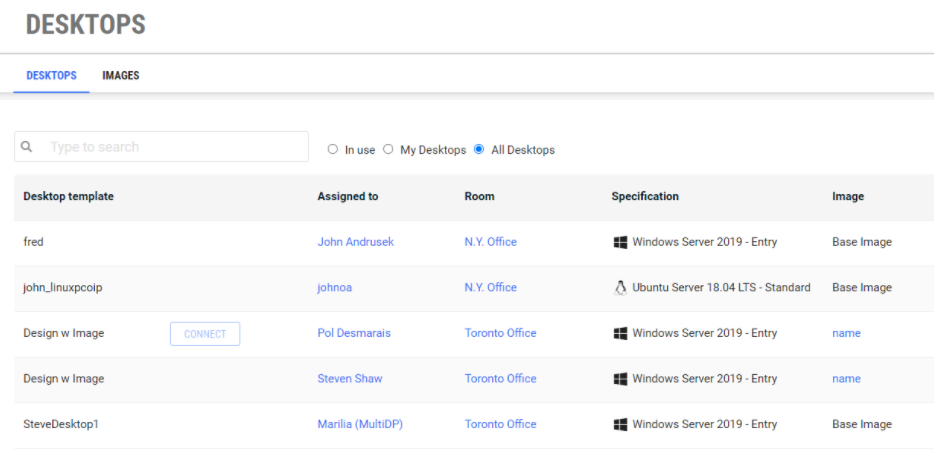 We have also added a tab system to the Desktops page for Admin and Manager roles, with a tab for Desktops and a tab for Images. The Images tab leads to a new table, where the status and details of an organization's Tehama Desktop Custom Images are shown. This table provides key information about custom image usage in the organization, all in one place.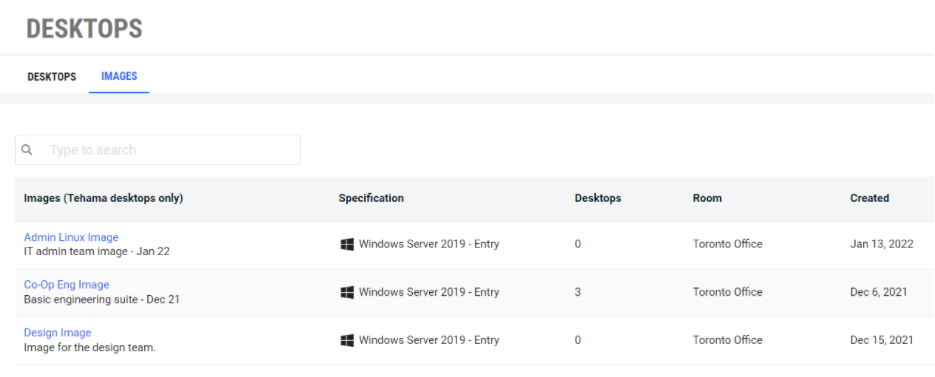 To provide detailed information about each individual Tehama Desktop Custom Image, we have introduced an Image Profile Page that includes pertinent details like Specifications (status, operating system, storage) and Information (creation date, creator, number of templates and number of desktops using the custom image). This page can be accessed by clicking on the name of a Tehama Desktop Custom Image from the Images column on the Desktops tab or the Images tab.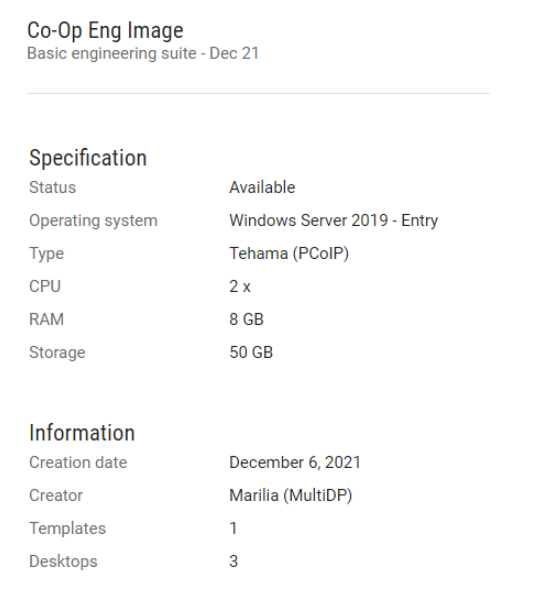 On this Image Profile Page, an Admin or Manager can edit the Name and Description of the Tehama Desktop Custom Image. This allows organizations to provide enough information to communicate the intended use of an image, and update identifying information as needs evolve.